2017 Black & White Ball
On Sept. 15 the Kiwanis Pediatric Trauma Center Foundation held its 22nd annual Black & White Ball at Leonard's Palazzo.

The 2017 KPTC honroees.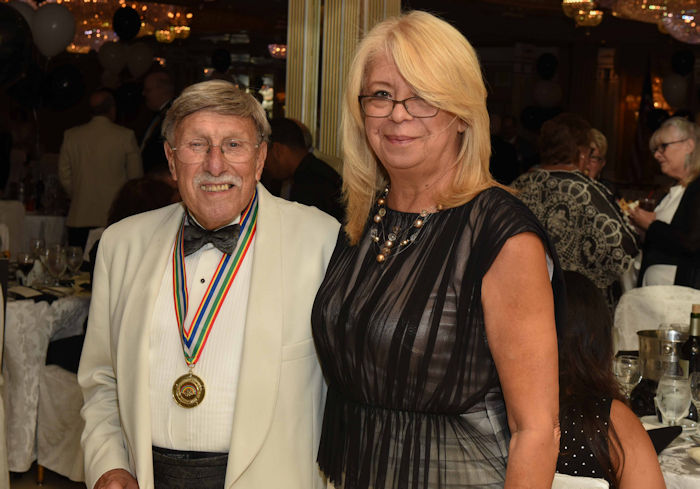 Foundation President Joseph Corace and Nydia Corace.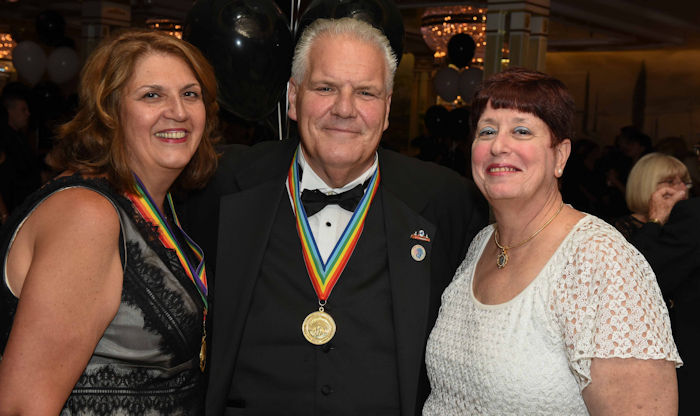 Former First Lady Helene Irvine, Past Gov. Forbes Irvine and Helene Harris.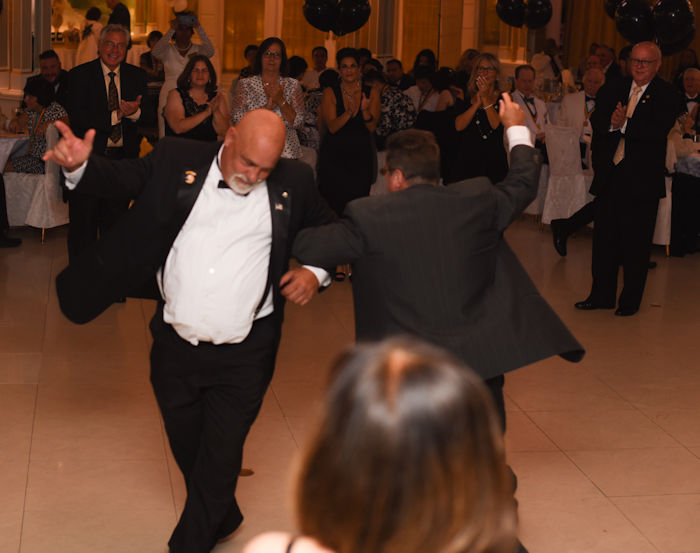 The Black & White Ball, created in 1995, was the brainchild of the New York District Kiwanis Distinguished Past Gov. Joseph L. Corace, president of the Kiwanis Pediatric Trauma Center. This year a record number of attendees, more than 300 Kiwanians, guests and Northwell Health hospital employees were present.
As tradition dictates, Kiwanians dressed up in their black & white finest with many wearing formal tuxedos and gowns, all in black & white of course.
"It's fun to dress up and come out for our children. The music is lively and I just don't want to sit down," shared Former First Lady Nydia Corace. The room was decorated with beautiful black and white mask tablescapes and balloons, donated by Distinguished Past Lt. Gov. Wayne Scheriff of the Queens West Division. Guests enjoyed having their pictures taken by professional photographers and Kiwanians Bill Moseley and Joel Harris. Many of them received souvenir photos in their black and white garb before the evening was over.
Past Governors and Kiwanians throughout the district joined in for the festivities. A moment of silence was taken to honor long-time KPTC Board member and avid supporter Distinguished Past Lt. Gov. Rich Santer of the Long Island South Central Division who passed away this year. He was a tireless supporter of Sponsored Youth and encouraged them to work hard for KPTC.
Tom Cohen, president of the Kiwanis Club of Five Towns, presented the 2017 Annual Distinguished Past Gov. Alfred J. and First Lady Rita Bevilacqua Memorial Scholarships. Melissa Kamper and Chelsea Morrison received $1,000 scholarships.
Speeches were kept to a minimum and as a highlight of the evening unfolded, this year's KPTC Fellows where called up to join the ranks of KPTC Fellow honorees. The KPTC Fellowships Awards represent a $1,000 donation that has been made in the honored recipient's name. The 2017 honorees included: Manny Corman, Brighton Beach Coney Island club; Joel Harris, County Seat Club; Marcee Rubenstein, East Meadow club; Alice Grosman, Sean Lally, Brian Rappaport, Barry Ringelheim, Five Towns club; Tom Poccio, Herb Chan, Metropolitan Division; Victoria Crappone, Maspeth club; and Sherry Tsang, Jenny Wu, Douglaston club.
Level-One Diamond KPTC Fellowships included: Dr. Sally Thompson, Uniondale club; Wang Yu, Jian Huai Yu, Douglaston club; Victor Rodrigues, Ozone Park club; Kevin Kamper, East Meadow club and Governor Stephen Sirgiovanni, Howard Beach club.
Level-Two Diamond KPTC Fellowships included: Tom DeStio and Linda DeStio, North Shore club. Level-Three Diamond KPTC Fellowships include: Lisa Santer, East Meadow club and Sandy Liew, Douglaston Club. Level-Five Diamond KPTC Fellowships included: Juan Na (Hannah) Chen.
Thanks to the all the supportive divisions, clubs, and members that placed ads in our B&W Ball journal and made it a great success.